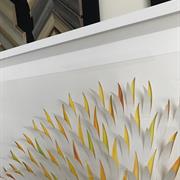 If you enjoy photography, it is essential that your photos look their best at all times. Picture framing is a straightforward and efficient method of accenting your photos, but many people neglect to put their best photographs in frames. However, with a little matting and a beautiful frame, you'll help your pictures stand out and be amazed at what a difference a few changes can make.
Types Of Frames And Matting
You'll find a vast variety of frames available, made of wood, plastic, metals, and more. You can find intricate designs and features engraved on them. Plus, you can choose from many colours that can match or slightly clash with the wall behind it to give a more eye-catching effect. Matting can also be used with the frame, especially if the photo is an odd size or you want to use a larger frame for a smaller picture. It is a coloured border that can really make your photo stand out.
Easier Sizing
Isn't it annoying when you buy a frame online that you fell in love with, but it doesn't fit? If you were to choose Amarisco Framing & Mounting, they could custom-make your frame to fit the picture. If you want an overly large frame, they can use matting to make it stand apart and fit within, keeping your photo safe and secure for years to come.
Express Yourself Creatively
Whether you want a photo wall or have pictures that have sentimental value for you, you can choose to insert it into any old frame or express yourself more creatively. You can find frames with wording, colours, icons, and images, to accentuate all that the photo contains.