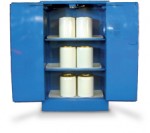 Whether you mass produce corrosives as part of other products or use them in your daily work, you must be trained on how to use them correctly. Most company owners provide training and have manuals to explain things in more detail. However, that is only half the issue. Once you know how to use the items safely, you also need to know how to store them to keep them safe and separate from other products. Corrosive storage cabinets are the best tools available for that job because they are designed to keep corrosives safe, even if they do leak a little.
Corrosive storage cabinets usually have a containment tray on the bottom to catch any spillage so that it doesn't leak out into the work area. Along with such, they also have appropriate ventilation so that the vapours do not mingle together in a closed space, which could cause combustion. Many of them also offer self-closing/latching doors, so your employees aren't tasked with waiting to close the door. Along with such, you can find options with locks to prevent people from using them without permission. It's another safety mechanism to ensure that the corrosives aren't misused or handled incorrectly.
EcoSpill is an industry leader focusing on offering products to a variety of industries to promote safe handling of chemicals and corrosives. They're focus is on environmental safety and keeping employees and other people safe from harm. They do this by offering a variety of products, such as spill kits, containment trays, and corrosive storage cabinets. You can keep products safe when they're not being used, contain any leaks, and clean up the mess from spillage quickly. That way, you reduce the risk of your employees getting harmed and the liquid seeping into the ground or waterways.